Three weeks ago we went on our first family only camping trip. We've gone camping twice before, but with friends. This time it was just us to see if we could camp alone. I think it went pretty well for our first time and we learned a lot for our next trip. We went to Lake Ray Robberts, only a 30 minute drive from us. They have some great camping spots. Jovi has loved camping every time we've gone so she was super excited about the trip and so, of course, Corbin was just as excited. We brought way too much food for an overnight camp out and not enough games for the kids. We ended up making up our own wilderness style game.
There was a burn ban in effect which we weren't expecting, but after a quick trip to the nearest convenience store and paying 2xs the usual price for charcoal, we were able to cook dinner. We had the classic, but always good, hot dogs chips and smores for dessert.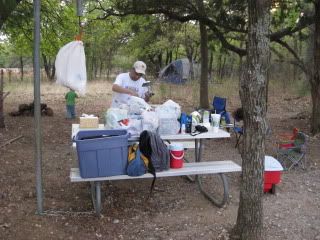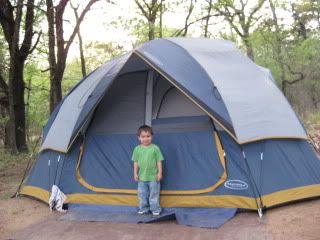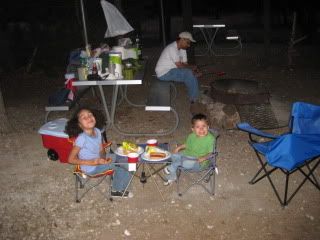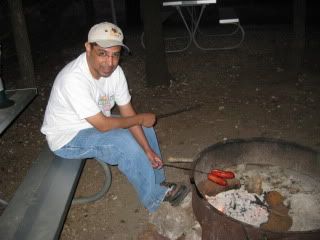 That night Juan brought out headlights (flashlights you wear on your head) and I think it was one of the kids favorite parts of the trip. They LOVED walking around looking at stuff with their headlights. They weren't as fond of the giant beetles that were attracted to the lights, but after assuring them that the beetles wouldn't hurt them they at least stopped screaming and trying to step on all of them (yuck!).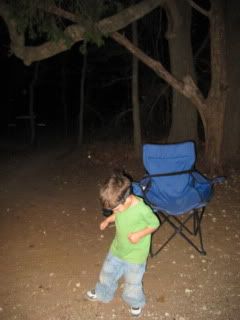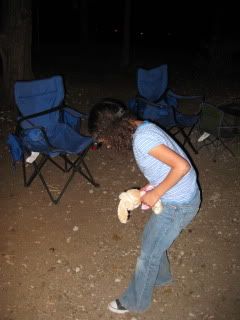 The next morning Jovi wanted to take some pictures by herself and since we forgot her camera, I reluctantly let her use mine. She was actually very responsible and I'm sure I'll let her take pictures with my camera again. Here are a few of her pictures.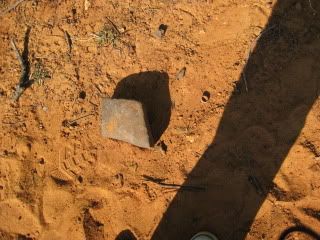 We also tried to go fishing while we were there. Both the kids desperately wanted to catch a fish. Unfortunately, the saying "the early bird catches the worm" is totally true when trying to buy worms for bait. We went mid morning and the bait shop was all sold out. We were forced to fish with fake lures which means we didn't catch anything. We told the kids it was just practice for our next camping/ fishing trip. Jovi and Corbin were surprisingly patient while fishing. They were more than willing to just sit and wait if it meant the chance of catching a fish.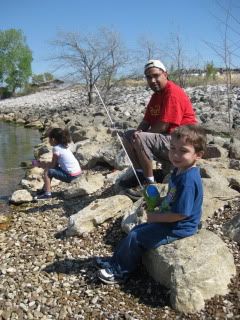 We had a good time camping and plan on going again, maybe even next month to take advantage of the weather before it gets too hot.