Last weekend we went camping at Joe Pool lake with some friends. Juan took off Friday and we were the first ones there. We got to scope out all the camp sites and found two that looked really nice. Of course those were taken, but we got two others that ended up being great. By the time we were checked in the Gandys were there too. We both set up our tents and got everything situated (ours is the tent on the right).
Funny thing, Jovi and the Gandy girls were all wearing the exact same shirt and our boys were both wearing orange, totally not planned, but it made for a cute picture. It was too bad Corbin refused to sit on the branch till Juan came over.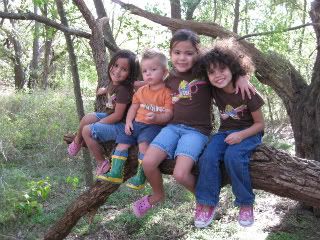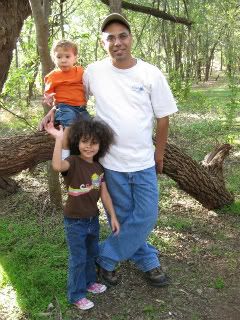 Corbin decided to relax while Juan started to build a fire.
The kids were all facinated by the fire. Later that evening we were joined by the Bastians and Hamblins. It was a fun night. We had BBQ ckicken and campfire asparagus (yummy) made by the Hamblins. I tried roasting apples in foil in the fire. The first batch burned horribly, but the second batch was pretty tasty. The next day Juan and I made breakfast for everyone. We brought WAY too much food, but everyone seemed to enjoy it :).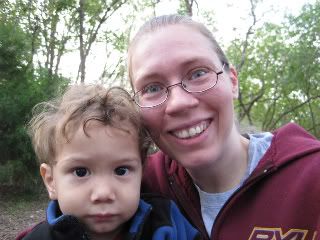 After breakfast we took the kids to play on old, slightly wierd playground that our campsites kind of backed into. The proportions were kind of off, the monkey bars were two stories high and the slide was super wide and had a huge drop, but the kids had fun playing.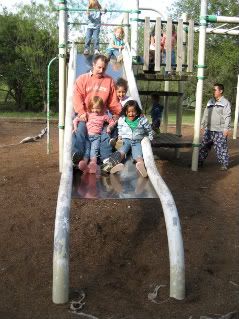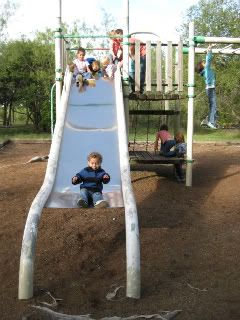 Then we went fishing. This was part of the camping trip that Jovi had really been looking forward to. The day before we left we went to WalMart and got her a Barbie fishing pole and she couldn't wait to try it out. I got an adult fishing pole too, just for fun.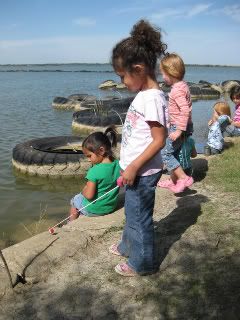 Corbin wasn't that excited about the fishing, but he really like the bait.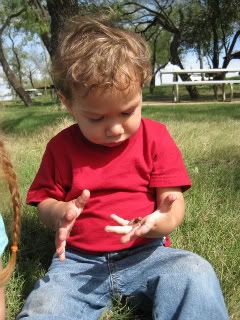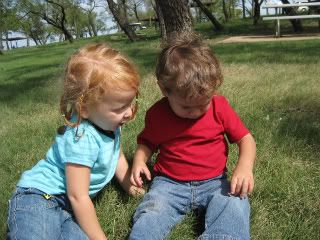 Soon after fishing it started to rain so I put up my camera before it could get wet. We did get to go visit an old farmstead which was really cool even if it sprinkled on us most of the time we were there. When we got back we found our tent was leaking and more rain was on the way. Even though we had planned to stay till Sunday we packed up and went home that night. Even though it ended early we had a really fun time and I hope to go camping again soon.