Jovi had her birthday party a few weekends ago. We did it at our local park and were so happy to be blessed with a beautiful day for a park party. Juan and I wanted to do a treasure hunt for the kids so we decided to do an adventure party. The kids started out decorating hats and making telescopes. Here is a picture of Jovi decorating her hat and a group picture of kids making telescopes.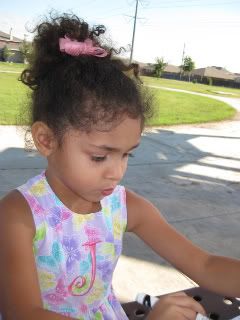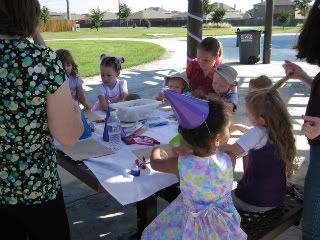 Juan made an awsome treasure map and I made backpacks with water, a compass, a magnifying glass, a pencil with blank book and pencil sharpener, a whistle and a flashlight.
I got all the kids together and showed them what was in their backpack and what it could be used for when going on an adventure.
Then I passed the kids onto Juan who helped them follow their treasure maps.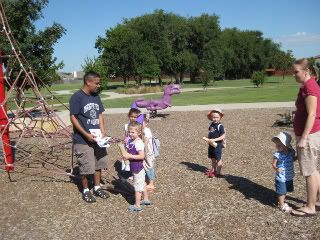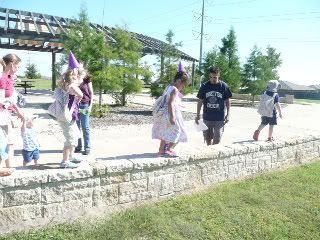 Their treasure ended up being lunch. They ate and then we got out the pinata, something Jovi deparately wanted as part of her party. She picked out a Hello Kitty one and I thought it was one of those pinatas that you pulled the ribbons on the bottom instead of hitting. Unfortunately I was mistaken, the ribbons were only decoration. Everyon had a chance hitting the pinata, even Corbin tried, but that thing was strong. We ended up tearing it open and throwing the candy at the kids. They didn't seem to mind.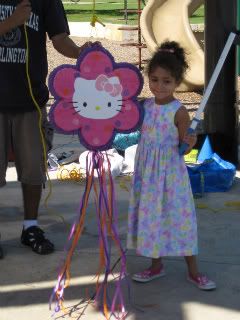 After that we had presents then cake and ended with the kids playing on the playground.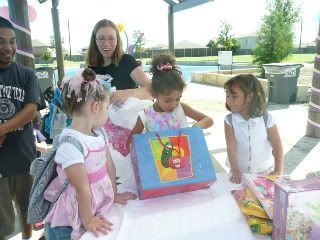 I think everyone had a good time, I know Jovi did. It was a really fun day!