Corbin got a new haircut a couple of weeks ago. The back of his hair kept getting tangled and I felt it was time for a shorter look. Now I miss the curls, but they will grow back.
Before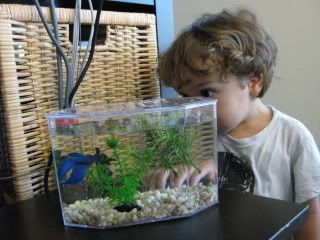 After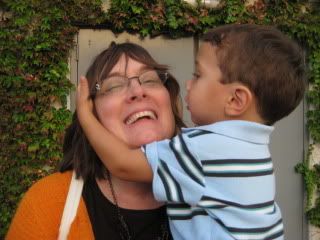 Corbin loves his Ganna (as you can see from the picture) and his Grandpa. He loves monster trucks, robots and bugs along with anything Jovi likes which includes unicorns, dressing up and hair bows. The other day he was carrying around his two favorite monster trucks and one of Jovi's stuffed unicorns all morning long, so cute. He is starting to like drawing and has shown some interest in learning how to draw shapes. He knows almost all his colors. He loves playing outside in the sandbox and digging in the dirt. He loves to sing and I regularly hear him singing Book of Mormon Stories (one of his favorites) while he plays in his room.
Corbin is not a very picky eater, he likes anything with rice and will usually eat a bite or two of anything I make. He likes to snack throughout the day though so he doesn't eat all that much in any one sitting. If you add up all he eats in a day though, he eats a lot. He doesn't like hamburgers, he says that he likes them because they are one of Jovi's favorite foods, but he rarely ever eats more than one tiny bite. He does love french fries and chocolate milk and (to show that I really do feed him good food) his favorite snacks are fruit like grapes, apples and raspberries.
A few weeks ago we had a tornado warning in our area. We watched the news for about an hour that evening and it had a profound effect on Corbin. He is now terrified of tornadoes. He thinks they want to eat our minivan. (No matter how often you explain that a tornado is not alive and they go away after a storm, a 2 year old will not understand. Everything is personified when you are two.) The worst part is that he is afraid to go to sleep by himself. Bedtime is now dreaded at our house by both parents and Corbin. I am hoping something changes soon or we might all go crazy.
Corbin is so funny. He loves to do things for a laugh and you have to be careful what you laugh at (like fake burping) because once he finds something that gets laugh he will do it over and over again. Corbin's favorite book right now is
We're Going On A Bear Hunt
. He asks to read it about every other day. Corbin is such a fun little boy, we are so glad he is part of our family.