On May 1st, Jovi's preschool is having a family picnic and silent auction as a fundraiser for the preschool. The whole picnic is pirate themed. They asked for donations for the the silent auction so I made three pirate dolls. Hopefully the will find good homes on Saturday. All their accessories are removable.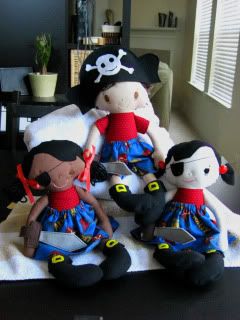 I'm thinking about selling a few of these. They are a Bit of Whimsy pattern and she sells ready made dolls and patterns
HERE
. I have two more pirate dolls, a girl with red hair and a boy with black hair. I could also make plain dolls or dolls with matching kid clothes. You could choose skin, hair, eye and clothing color. I'm thinking about selling plain ones, like the one I made for Corbin (below) for $25 and dolls with accessories or matching kid clothes would be more. Email me if you are interested and we can talk about the perfect set for you.