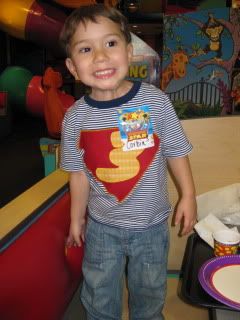 Two weeks ago Corbin turned 3 years old. The night before Laura gave Corbin her gift, Superman pjs. Corbin loves Superman and he was so excited.
Laura also gave Jovi Tinkerbell pjs. They were both very grateful.
Corbin showing off his super strength.
Laura helping Corbin to fly.
These are now Corbin's all time favorite pjs and he wears them as often as he can. When he wears them he calls himself Superman and talks in third person. "Superman needs to brush his teeth." "Superman wants choose his book." "Superman flys to bed." are things he often says in the evenings nowadays. It is too cute.
The next day, decorating with the Superman party Cricut cartridge, Corbin got a Superman birthday.
We had a family celebration at Chuck E Cheese. For some unknown reason, last year Jovi decided she was very scared of Chuck E Cheese. This quickly went from avoiding him at the restaurant to refusing to even walk in, so we asked her if she would be ok with the party being there and after much discussion she said she would be ok. This lasted until she actually saw Chuck E Cheese. She freaked out and refused to move from our booth. My mom left with her early, but rather than that small snag we all had a great time. (I made the applique for Corbin's shirt with my Cricut and sewing machine :) ). Corbin got some great presents. I think his favorite was the Thomas Train trackmaster stuff from my parents. He loves running those electric trains.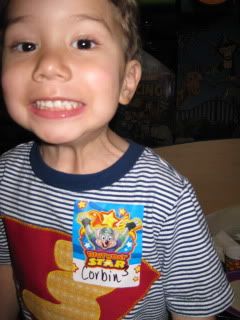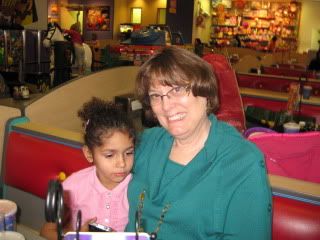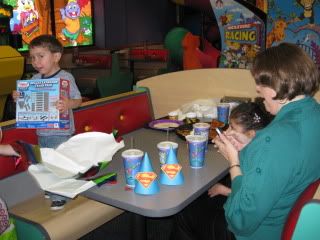 My sister, Laura, has been living with us for just over a year. It started as a very temporary thing, because she thought she wanted to buy a house and didn't want to be locked into an apartment rent agreement. After a lot of looking she decided that she didn't want to buy a house right now, then she stayed because her rent was helping our budget. It was a fun year having her here for dinners and evening game playing, but I think the coolest thing was how my kids got to develope such a wonderful relationship with their aunt. On Corbin's birthday she packed everything she owned into her car (an amazing feat in and of itself) and left to do a year of service with AmeriCorps in Montana doing statistical analysis of their financial literacy programs. I think she is in for a fun and exciting adventure and I'm so proud of her for choosing to do something totally out of her comfort zone. I hope she has a wonderful year. We love you and miss you Laura!