Jovi turned 4 yesterday! The night before I stayed up and made her a birthday dress out of fabric she picked out (pattern found
here
I highly reccomend it). In the morning it was deemed the "perfect birthday dress". Here are some pictures:
Jovi is showing she is 4 (four fingers) in this photo: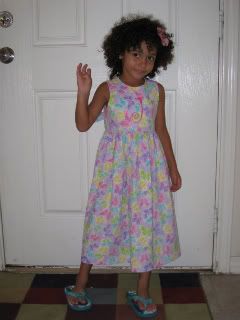 We went and got doughnuts for breakfast and then my sister, Eden picked her up and took her to Build-A-Bear for her birthday present where she got a pink unicorn with its own ruffle dress, panties and bow for her unicorn horn, her name is Ella and Jovi loves her. That afternoon I spent most of my time making Jovi's birthday cake. She has wanted a Barbie rainbow cake for months now, ever since she saw one at Kroger. On Wednesday I went to order one and found out the were $40!?!!?!?! Wow, I mean, sure you get a Barbie as part of the cake, but $40 just wasn't happening and I thought, how hard can it be to make my own? So, I went to Walmart, picked up a $6 Barbie, 2 white cake mixes and a dozen eggs and made my own for less than $15 (including the stuff I had at the house). It wasn't perfet or anything, but the cake inside got to be purlple at Jovi's request and she got to decorate the dress with sprinkles herself. It did take both cake mixes though. We have SO much left over cake, anyone want some? Here are some pictures:
Jovi, Ella, and the cake
The purple inside
Corbin has be very sick this week with asthma (the drs won't call it that yet, but it is). He is on steroids right now which weaken his immune system. We were planning on going to Chuck E. Cheese, but my mom ended up staying home with Corbin and Jovi, Juan, my dad, Laura and I went to Gatti town for dinner and games and then went back to the house for cake and presents. Here are some present pictures:
Jovi opening Emma's gift (she loved it)
Her gift from Grandpa Thompson
My parents gave Corbin a gift so he didn't feel left out:
Jovi really enjoyed all of it and loved her present from Ganna and Grandpa best of at, a Vteck digital camera.
She has been taking pictures all day today.
We are hoping to have a friend party in a few weeks, since things just didn't come together in time for a friend party this week. Happy birthday Jovi, we are so glad you are part of our family!