Jovi has started telling knock knock jokes. They are hilarious! It started with her saying knock knock in the car. I thought I'd teach her the classic, boo hoo joke so I answered boo. Well, she thought that was funny since we play a boo game with Corbin and all that is involved with that is saying boo and laughing. I had to explain that she was supposed to answer boo who?, and explain it again and again. Juan and I showed her how it was done so now her knock knock jokes go...
knock knock
who's there?
pineapple (or airplane or something else, but she seems to like pineapple best)
Pineapple who?
BOO!!!
(laughter ensues)
Now Juan was telling her some jokes and they were pretty funny to listen to, too...
knock knock
Who's there?
Emma (or Ganna or Eden, we were on the way to visit my family at the time)
You're not Emma (incredulous that Juan would say something like that) You are daddy!!!
I was able to finish an outfit for Jovi yesterday. I call it her PB&J outfit and was inspired by her love for the food. She eats a peanut butter and jelly sandwich for lunch almost every day and when I saw the embroidery design I knew I had to make her something with it. I dyed the cotton velour fabric over 2 years ago and could never figure out what to make with it. I'm glad I saved it though because I think it really fit with the whole outfit.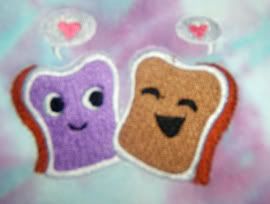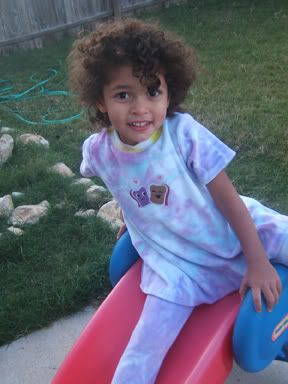 Jovi had been playing outside while I had been finishing up sewing (I can see her while she is outside from the windows in my bedroom). After I had taken a few pictures. She climbed into the chair she had set up with the jump rope around it and said, "Now take a picture with my horse.". So this is a picture of Jovi and her horse.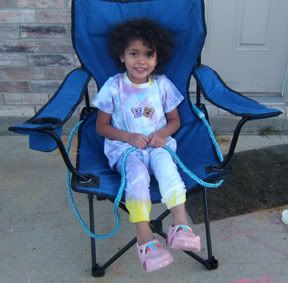 My dad wanted some greenery for his office and was going to order some from a catalog for $110 a piece. I told him I could make them for him if he paid me instead of the catalog. He said he'd let me try so here is my first (hopefully of many) plant arrangement for his office.