Last week we left on vacation for Minnesota where our niece was graduating high school. We drove the 16 hours, but about 20 hours with bathroom breaks, in two days. On the way up we got to take our niece, Arianna with us. She was great to have in the car and helped to keep Jovi entertained most of the way up. The kids actually did far better than I expected. My mom made them travel journals with a map of every state we traveled through. We stopped at all the visitor centers we passed and the kids were able to get a map and a few pamphlets for every state. It was a lot of fun, I highly recommend it especially for older children. Corbin was too young, he liked taking the pamphlets, but didn't care about them afterwards.
Once we got to the house, the kids were surrounded by their cousins and taken outside to jump on the trampoline. The adults stayed in the house talking. Thirty-ish minutes later Corbin was brought inside crying, holding his leg. He had fallen off the trampoline and yes, he broke his leg. One ER visit later Corbin had his right leg in a splint, got a popsicle and stickers for being such a good patient and was feeling better. I was not. The splint went up his thigh and couldn't get wet. The ER doctor said he probably wouldn't be able to walk for 4-6 weeks. How in the world was I supposed to keep an active three year old from walking for 6 weeks!?!?! What can you do outside in a Texas summer (100+ degree weather) that doesn't involve getting wet?!?! These were the thoughts I was left with that night. The next day was the graduation. Juan took a "facebook" shot and a group photo.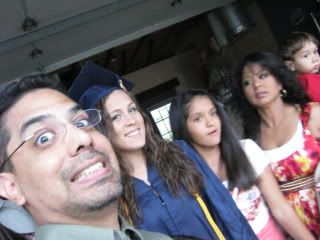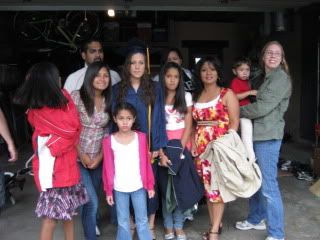 Unfortunately it was drizzling the whole graduation and since we had to keep Corbin's splint dry, we didn't get to see Kayla walk, but we heard it was great. The next day was the backyard graduation party and the weather was wonderful, sunny and breezy. Juan and his brother, Ruben grilled for 200 people. Ruben grilled chicken and some of the best ribs I've ever had. Juan grilled the veggies; corn, zucchini, peppers, onions and mushrooms. The party was lots of fun and had great food, of course. Corbin spent a lot of the time on the couch watching movies inside, but he got to go outside a couple of times. Jovi spent the whole day happily playing with her cousins.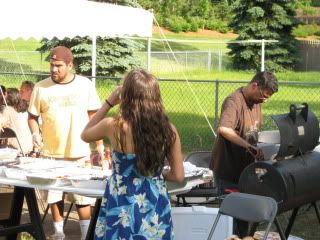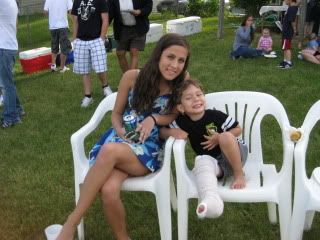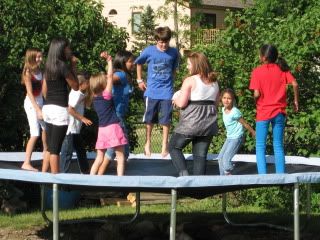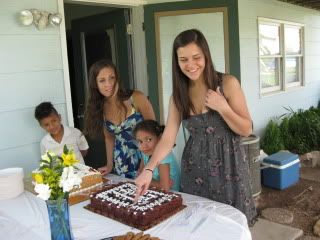 When we got back home, we took Corbin to the Orthopedist who put him in a cast under his knee (yes!), that can get wet (yes!) and he can walk in (once it stops hurting), and he should be out of it in 4 weeks (yes!). Once I told him about how people can write their names on his cast he had all of us write on it, including directing me to write his own name on it. He asks anyone who comes over to our home to sign it. It was a memorable vacation with some interesting souvenirs.