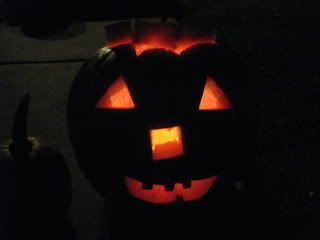 We celebrated our Halloween a little early since this year Halloween falls on a Sunday. Our kids didn't seem to mind at all. Our celebration started over a week ago with a trip to a small Pumpkin Patch in Coppell. They actually weren't open, but we took pictures anyway and after asking permission in the church who was running the pumpkin patch we got two small pumpkins and left the money under a brick on the check out counter. I made Jovi's skirt using the very last of one of my favorite fabrics, some very cute orange corduroy with black polkadot fabric. I used
this
pattern, one of my go to patterns for cute skirts.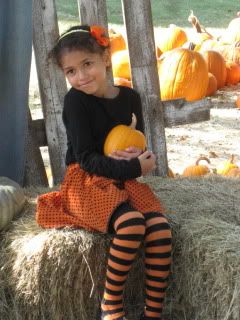 On Monday we got bigger pumpkins and carved them. The kids helped take out the pumpkin "guts" and got to choose the type of face they wanted on their pumpkins. I wielded the knife. That night we set them on our walkway and put candles in them. The kids loved it.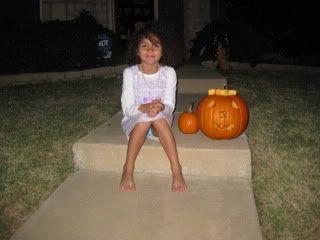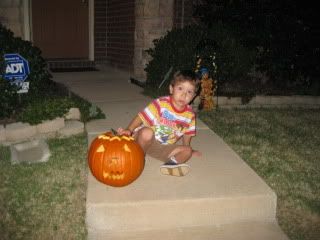 The rest of the week I frantically sewed together costumes for the kids. I'm kind of proud about how they turned out since I didn't use a pattern for either of them. Jovi wanted to be an Egyptian since we have been reading a lot about them in our history book. I thought it was a great idea and looked up some info on
this
very helpful site. Using some cheap linen look fabric from Joann and metallic fabric paint for the collar I feel I made a pretty cute costume. Jovi's favorite part was the wig. Corbin wanted to be a bug until his oh so helpful sister said, don't you want to be someone from Star Wars? Corbin LOVES Star Wars, so of course he wanted to be Luke with the all important blue light saber. Honestly, his costume took less time than Jovi's. I used a kid's Chinese robe that we had as my pattern (by the way, those robes are made of all rectangles, super easy) for Luke's shirt, made a little belt and added some tan pants and boots and we had a Luke costume. Corbin loved it. On Friday we went to our church Trunk or Treat. The kids had fun until Corbin saw someone dressed in a scary costume and he freaked out. He seriously acted like one of his worst nightmares came to life. He hung out with me and helped pass out candy after that, but we did end up leaving a little earlier than planned. Jovi had a great time with her friends and got a lot of candy.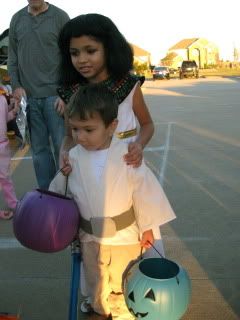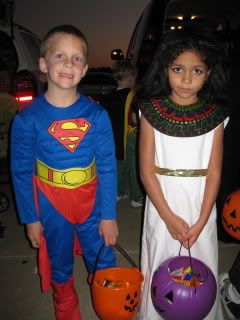 Happy Halloween!!!!