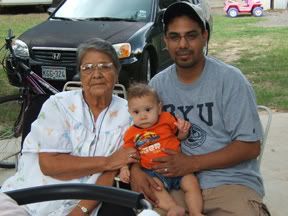 Two weeks ago Juan's maternal grandmother died. She had been very, very sick for several months previously. I know that this life is not the end and with that knowledge all I can think is that at least she is no longer in pain and has found peace. I didn't know her very well, but from what I knew of her she was a wonderful lady. She was the mother of 9 children, 1 boy and 8 girls (in that order). She loved her family, children, grandchildren and great grandchildren and loved for them to visit. She love sparkly things and Christmas. And she always made a granddaughter-in-law who only spoke a few words of her language feel welcome and cared about when we visited.
We were asked to wear pink at the funeral so I spent the day before we went to the funeral shopping for pink clothes for everyone. It is hard to find a men's pink dress shirts in fall, fortunately my brother-in-law lives near a JCPenney outlet and was able to find some very nice ones for a great price. We traveled to a small town halfway between here and Houston where the funeral was held. We stayed in a hotel with rooms right next to Juan's mom and siblings and their kids which my kids thought was the best thing ever. Corbin called the hotel "the building" and his cousins were "my friends" and was constantly wanting to go back to the building to play with his friends. It was very cute. We were able to take some nice family pictures while we were there.
The Flores kids with their Uncle.
The cousins (aka Corbin's friends)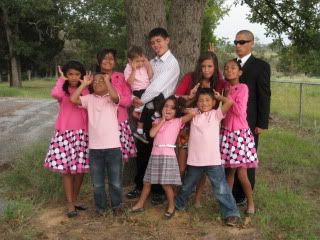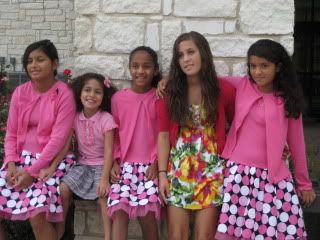 The girls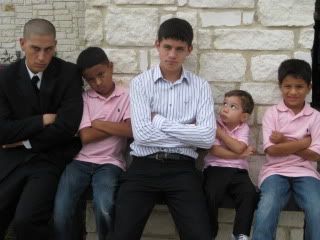 Da boys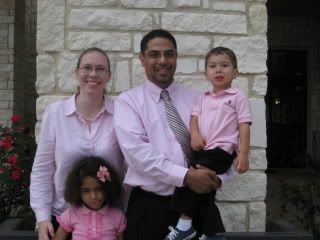 Jovi trying to get Corbin to smile. I was so sad that I missed the money shot on this one when she was actually holding his lips like a grin, very funny!
I got to meet one of Juan's aunts who I had never met before and lots of cousins and second cousins. It was a wonderful, although sad family get together to remember a wonderful woman and her life.