The kids and I went to the State Fair on Wednesday with my mom and dad. This is something Jovi and I look forward to all year. She loves the rides, the petting zoo, playing in the new cars and the enormous sandbox. I love the arts and crafts section (I keep meaning to enter, but always forget), the live infomercials and the food. We got to do it all this year and had a great time. Corbin liked everything too except for Big Tex. He was very scared of "the big man" and needed to be held by me or Ganna or Grandpa anytime we went near enough to see him. The weather was wonderful, sunny and cool with a breeze and it only started getting crowded an hour or two before we left.
Here are pictures of the petting zoo. Jovi requested it be the first place we went. Corbin was reluctant to get near the animals at first, but he ended up liking to feed them with the provided shovels. Jovi liked feeding all the animals, her favorites were the baby goats.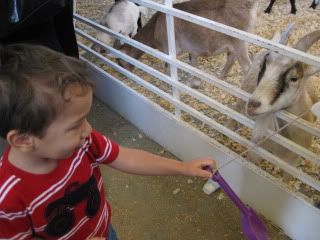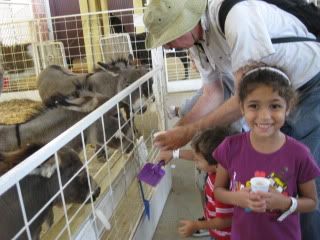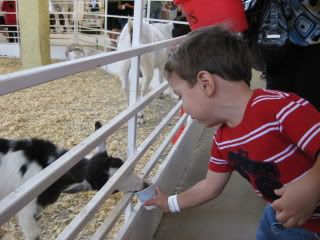 Next we went to the kid farm where Jovi and Corbin got to be farmers. But first Jovi wanted to try out being Big Tex. It's a good thing Corbin didn't recognize him.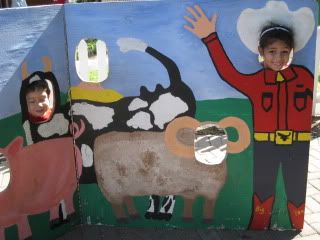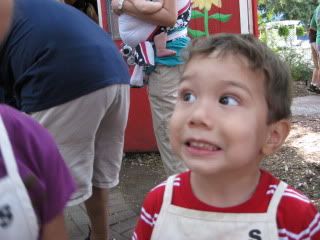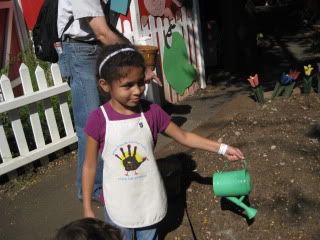 Here is a group photo from the day.
Corbin liked trying out the cars.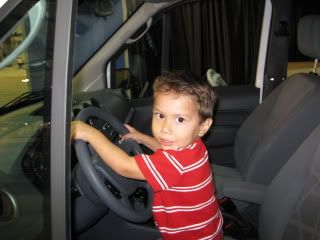 Jovi really enjoyed the rides, but Corbin did not. We ended up having to stop the ride and get him off because he started crying. Perhaps next year he'll be ready.
After the fair we went home and crashed. A trip to the fair is a lot of fun, but very tiring. My mom made this awsome YouTube video of our trip, thank you mom!