Last month we were at church and someone in our ward came up and asked me if I would be willing to have Jovi model for a photo shoot she was doing. I said sure. She got to model a skirt and some pants and we got to keep a couple of the photos. Jovi was so excited to be a model she couldn't seem to keep still. She kept jumping around and while she tried to listen to directions, she was really bad at holding any pose for more than a few seconds. Stephanie was really patient though and she was able to take some really great photos. Stephanie is a professional photographer and she takes awesome photos,
HERE
is a link to her blog. I just love the colors in her photos, they are so real and vibrant and she has a great eye. Here are my two favorite photos from the shoot.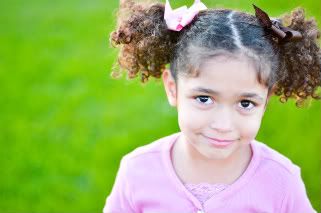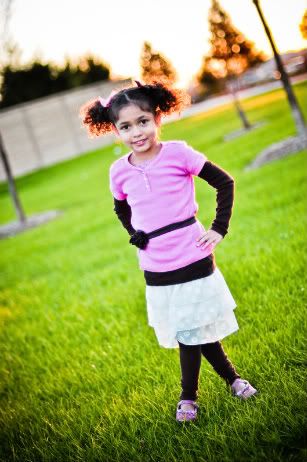 Oh yeah, if you visit Stephanie's site she has a giveaway going on for some really cute hair accessories.
Funny story, a few days ago we were on a walk and Jovi looks up at me with this really guilty face.
"Mommy?"
"Yes, Jovi"
"Yesterday when you were putting Corbin to sleep for his nap...", she looks down and whispers really quietly, "I cut my hair."
"What?!?!", I say trying to see any difference in her hair. It looks the same it always does, super curly."
"I cut my hair mommy, I'm sorry.", she looks very sad and pitiful.
"Where did you cut your hair?" I ask still trying to see where she did this cutting.
"On the front, it kept getting in my eyes." I still can't see any difference in her hair, but I do notice that her front curls are hanging in front of her eyes.
"Jovi, you know you never cut hair."
"I know, I'm sorry."
"Next time, if hair is getting in your eyes, tell me and I'll put a clip in it."
"ok."
"Thank you for telling me though."
So what is Jovi getting for Christmas? Lots of hair clips.
I know I should have used the situation as a learning opportunity, to talk about guilt and telling me right away. There probably should have been some consequences too, but honestly I was so shocked by the whole thing I didn't think of any of that. Oh well, next time, because I'm sure there will be a next time even if it isn't with hair, I will work on the parenting thing. Jovi definitely keeps me laughing.