I can't believe it's been two months since I've blogged. Well, lots of stuff has happened. To catch up, We had a great time visiting the zoo with some friends.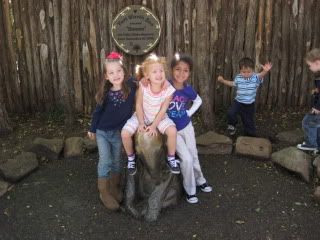 We had a nice pre Thanksgiving with my family.
We had Thanksgiving with Juan's family at his mom's house (Unfortunately I forgot my camera.). We had a really great time with his family, great food and fun and games, but going home was less than ideal. Corbin cried the whole 2 1/2 hour trip home. Really, the whole time. We were considering going to Eagle Pass for Juan's grandparent's 60th anniversary which would have been an 8+ hour drive each way. We opted for sending a card. I'm praying he grows out of this because we are driving up to Minnesota this summer whether he does or not.
We are still enjoying going to the DMA's first Tuesday activities. In fact, we just became DMA members for the free parking perks. These are the Dr. Seuss hats the kids made during December's first Tuesday. We also decorated Christmas cookies.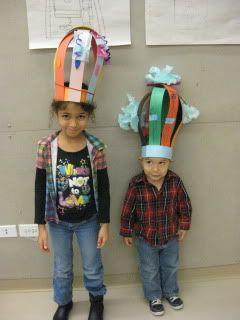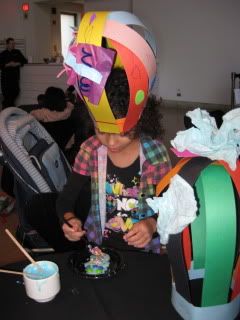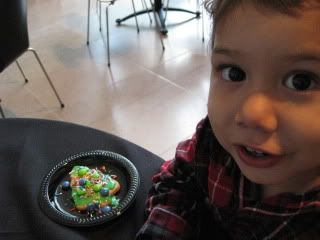 Then my camera battery died and I lost my charger and I wasn't able to take any pictures (or upload the old ones) till I got a new charger right before Christmas. Honestly, December was pretty boring. The biggest news was that I started working for my sister who is disabled and has always had serious health issues. She lives with my parents and we go over and help her with errands and cleaning and stuff every Tuesday and part of Thursday. I had big plans for making Christmas items, making our family matching Christmas pjs and lots of baked goods to hand out to friends and family. None of it ended up getting done because two weeks before Christmas Corbin got croup which turned into pneumonia and had me sitting on a couch with him every day watching children's movie after children's movie. Juan and Jovi also got sick for part of that time. I got a lot of reading done, but not much else. Fortunately, everyone felt good enough to enjoy Christmas Eve at my parent's house.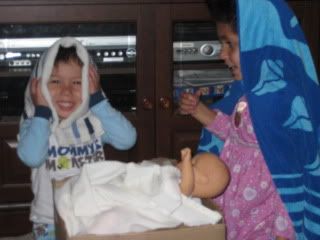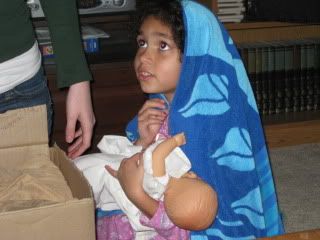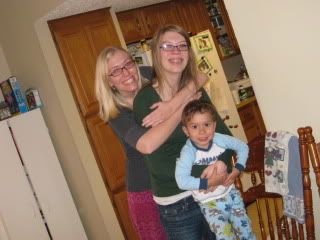 Sickness reigned Christmas Day, but at least not for the kids. We were supposed to go to Juan mom's house, but Ruben's family was sick so we put that off till New Years Day. Then we were going to get together with my family for a Christmas lunch, but both my Dad and Mom woke up sick. We ended up spending a quiet Christmas day at home playing with our new toys. Corbin got a wooden train set, Jovi got a play laptop, Juan got a bunch of board games and I got a cricut. I totally wasn't expecting it and it is just as awesome as I thought it would be. I've been having a lot of fun playing with it.
That week we went to the Frisco Science Center where we have a family membership. It's small, but a lot of fun and they have a daily story time and craft. We go 2-3 times a month.
On New Year's Eve my family came over for a pizza dinner. Everyone hung out till we put the kids to bed and then my sisters left to go to parties. My parents stayed and played a game with us and then left. Juan and I rung in the new year on our own. On New Year's Day day we went to his mom's house celebrate Christmas. We had a lot of fun and the kids got some very nice presents AND Corbin only cried the last 30 minutes of the drive home (there is hope).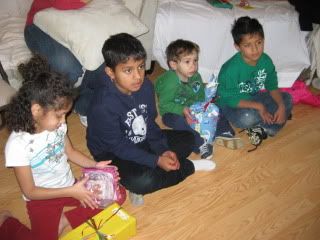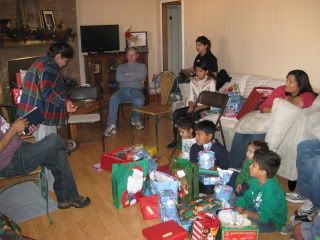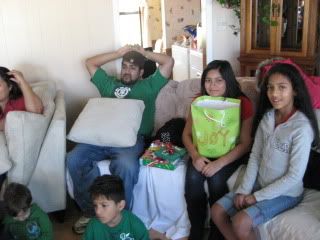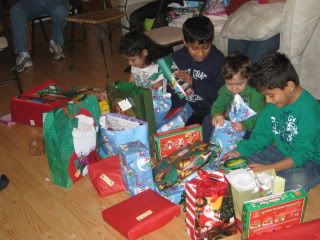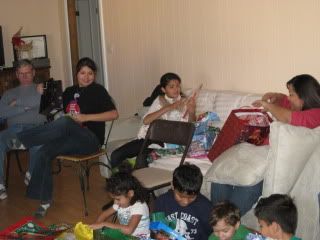 Next time, Corbin's Birthday and Laura leaving...