It's been a while since I've posted. This month we've been sick a lot, but have had some fun and exciting times too. Juan took off Friday the 16th and we went to the farmer's market and the Dallas science place. It was a lot of fun, but the bottom level of the museum, the part made for kids 6 and under was super crowded with a bunch of school groups. Friday is apparently field trip day. I recommend going on a different day. They had a light exhibit that the kids really enjoyed in the nature museum, or as Juan calls it, the stuffed zoo. Here are some pictures in front of the nature museum.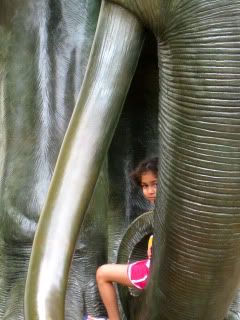 Jovi is growing up. Sunday, the 18th Jovi gave her first talk in primary. She talked about Joseph Smith's first vision. We practiced with her a bunch at home and she said she wanted to do it without our help, so on Sunday she stood up all by herself and gave her 2 minute talk and did a great job. That night she lost her first tooth. We had noticed that it was loose only the day before. After her bath I was just trying to see how loose it was and out it popped. She was so excited. I made her a super quick felt tooth pillow so she would have a place to put her tooth for the tooth fairy. The next morning she found a half dollar and a Sacajawea dollar. I've gotta say that there has been some hefty inflation on baby teeth since I was little and got a quarter for my first tooth. As you can see, Jovi was pleased.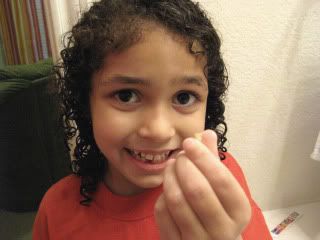 Corbin is getting bigger too. He talks all the time, mostly in correct sentences. He wants to do everything Jovi does and it is a good thing he is super cute because he is two year old Trouble, if something can break or spill he is sure to do it. We went and saw How to Train Your Dragon earlier this month and Corbin loved it. He switched between sitting on his seat, my lap and Juan's lap the whole time, but stayed relatively quiet and very interested in the movie. He talked about the movie the whole week afterwards. He is very into TV and movies right now and wants the TV on all the time. I'm planning a TV free week next week I will try and post about how well that goes.