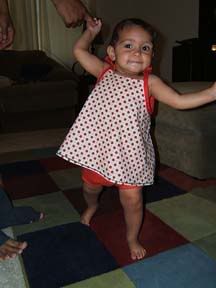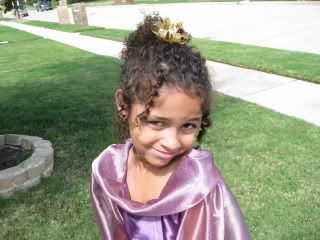 I can barely believe that my little Jovi turned 5 on Saturday. About a month ago we gave Jovi a choice between having a friend birthday party or going to a castle for dinner (
Medieval Times
)on her birthday. Jovi chose the castle, so on Saturday, after her first soccer game of the season where she scored 2 goals she got to dress in her very own princess dress. (Made by me,
Simplicity 5520
).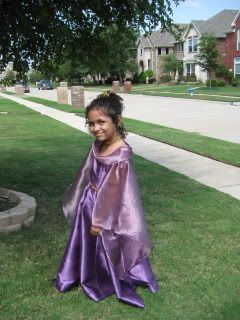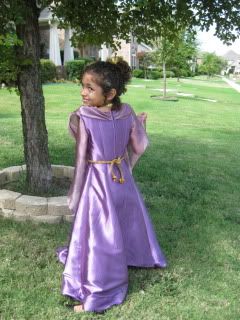 This was originally to be a family only party, but Eden, unfortunately got sick and so Jovi got to invite her friend Julia. They were so excited!
When we got there the girls loved it. We got to meet the princess, see the horses they use in the show, and Jovi got knighted by the king.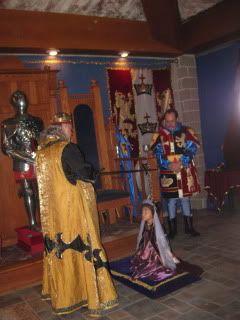 Eventually we went in and sat down to dinner and a show.
The kids loved waving their flags and cheering for our knight, the red knight. You don't get any silverware to eat with and it took Jovi and Julia a minute to figure it out, but they ended up drinking their soup through straws, very funny. Corbin was a little scared at first, but he soon got excited cheering for the show. Jovi told me her favorite part was when the knights were jousting, it was a lot of fun. All the kids got a bit tired by the end and were asking when it was going to be over, but everyone seemed to really enjoy it. We had a great time.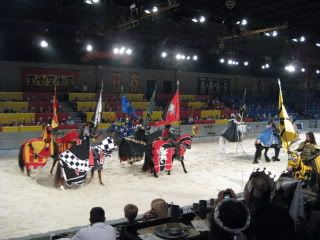 After the show Jovi got to open presents in the parking lot next to the castle. She got several great presents from her Aunts and grandparents.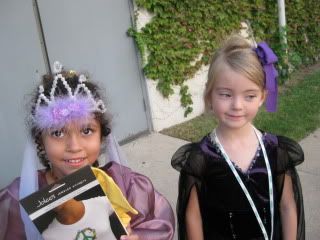 Jovi is a wonderful little little girl. She loves all things girly, especially princesses and unicorns. She draws the cutest unicorn pictures, but my favorite picture she made recently was a picture of our whole family as Mermaids, Mermen and even a Merdog. Jovi still loves Scooby Doo and Barbie movies. She likes doing school, she is learning addition and how to read cvc words right now along with some geography and history. Jovi loves playing with friends, including her brother. She is a great big sister helping her brother (when he lets her) and generally being a good example. She is very caring and tries to do what is right. I am so glad Jovi is part of our family.