Jovi and I have been doing "school" at home for a month now. We've both gotten into it and been having lots of fun. I was planning on doing a preschool, specifically a pre-k program, in the fall. But I only had one person who was even interested and as I worked with Jovi I realized that a slow moving, kindergarten level program would be more appropriate for her. I emailed the person who had expressed interest and told her that I was increasing the level of the program, but they were welcome to join us.
I feel like this is a blessing in disguise. If Jovi had been only two weeks older she would almost certainly be going into public school Kindergarten. Since she cannot go to public school yet I get a chance to try out homeschooling with very little risk and a great opportunity for rewards. I have been interested in homeschooling ever since Jovi was born. I toyed with the idea, read books and curriculum catalogs, but never felt sure that homeschooling was the choice I should make...till now. If Jovi and I love this year we will continue. If she learned a lot, but for any reason we feel like she would do better in public school I can test her into first grade. If this year just doesn't go well for us or she isn't learning much she can start kindergarten next year just like she is supposed to according to the state. I feel like I have so many options at the end of the year, that this year has no pressure and can be nothing but positive.
I've been having lots of fun looking for curriculum, but that deserves a post all its own. Instead, I will share how our upstairs living area has changed. Everyone, kids and adults, love the new space and use it way more than we used to.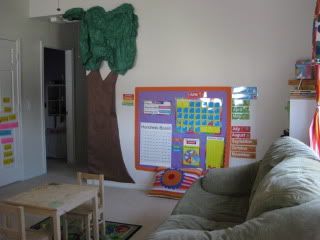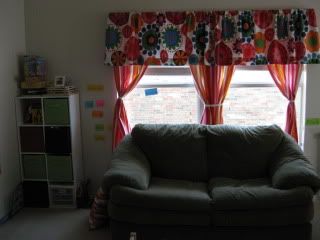 Next time a post about calendar time...