I frequent a forum,
Sewing Mamas
and they held a contest in February called Stash Game. You are supposed to use up as much of your fabric stash as possible without buying any fabric during the game. Points are given based on yardage used and number of notions. They hold this contest twice a year and although I had signed up before, this is the first time I finished. Even though I wasn't even close to the winners and their numbers I feel proud that I finished. My final stats were:
32 3/4 yards of fabric sewn
19 items sewn
8 different patterns used
4 items for me
Please excuse the bad photos, i was trying to document the month and didn't get the nicest pictures. I started with curtains for the upstairs playroom using fabric I had bought for Jovi's room before we moved. I made a matching pillow, but I'm so NOT proud of it (really bad craftsmanship) that I didn't take a picture.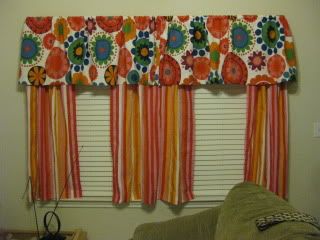 I also made curtains for the windows on the stairs. The have been covered with cheap curtains from Walmart that didn't even fit the windows since we moved in. Now they have nice, lined, white linen with aqua polka dot curtains. They make me happy every time I see them. Unfortunately they didn't photograph well.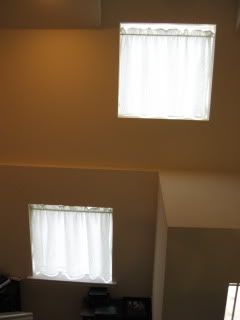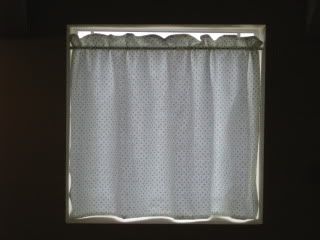 I learned this month that I don't really enjoy making curtains. It involves a lot of measuring and ironing and then measuring again and then re-ironing, then measuring yet again and sometime continuing to repeat till the panels are exactly the same. The actual sewing is easy. Measuring super accurately is not so easy. I still am planning on making curtains for the downstairs living/ dining room, but I think I will wait another week or two to start them.
For Juan's Birthday I made him 4 extra long pillowcases as he requested. He said he didn't care what fabric I used so he got pink and purple pillowcases.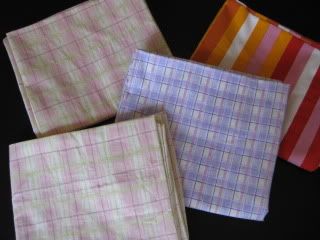 I also made him shark pajama pants.
For Valentines Day I made Jovi a reversible dress from
this
pattern. I've had it for about two years and only used it once. It makes a really cute A-line jumper and I will hopefully be making more.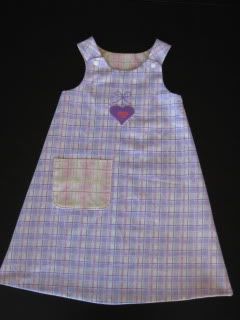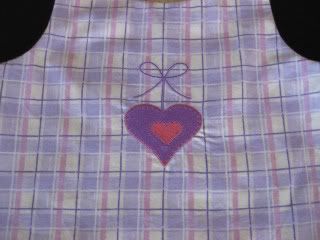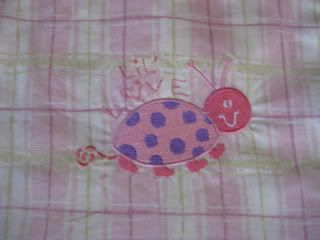 I also made two sets of shorts and long sleeve shirts for Jovi to wear while she played soccer. I made the purple set she is wearing in the first picture.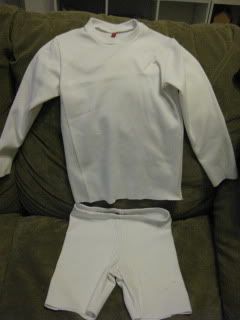 One of my goals was to test out some patterns for me. I hate shopping for clothes for me. Most of the time they don't fit quite right and it takes so long to find just what I want and then it usually costs too much so... I got
this
pattern from fabric.com and tried it out with some cheap knit fabric I ordered from there. I will be making my own tshirts from now on. They are super easy and only take 1-2 hours from cut to finish. I love the pattern too and with a few modifications it will be perfect for me. I made the crew neck first and found the arms a bit tight and the shoulder seam a bit wide. Then I made the V neck and LOVE it. I fixed the problems I had with the crew neck and it is the first V neck tee that doesn't cut too low on me. I will be making many more of these, and the pattern is sized from little girl to adult so I can make the same tees for Jovi. And not only are my "muslins" wearable the fabric only cost $4 for each one.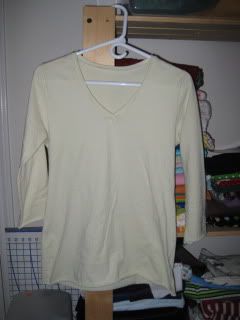 Next I tried
this
pattern and I really liked it too. I made my own sleeve changes, but really like the gathering on the neckline and the hem band at the bottom which makes it very flattering when worn. And it only cost $4 too.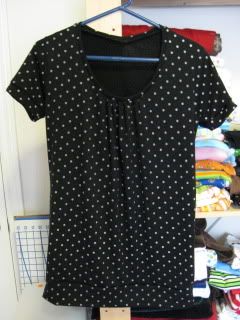 Last of all I made an A-line skirt using the basic skirt pattern from
this
book. It had darts and a zipper; two firsts in clothing construction for me. It fit just barely. I made it Sunday morning and wore it to church that afternoon.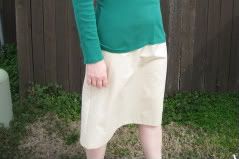 It was a really fun month, but I'm taking a week long sewing break before I start working on new projects.