Well, this week hasn't been much fun. Jovi got a sore throat on Tuesday, then a fever that night and had the fever and sore throat through Wednesday night. We went to the doctor on Thursday because I was worried about strep throat, nope it wasn't that it was Hand, Foot and Mouth. The Dr. said it was a common childhood virus that can last 7-14 days. Her sore throat came from blisters on her throat and she could get blisters on her hands and feet too even though it doesn't look like that is going to happen. The past two days her fever and sore throat have gone away, but it looks like Corbin caught it too because he has a low grade fever and has been crying inconsolably at night. He acts ok durring the day,but very little sleeping is occuring at night. I thought kids were supposed to sleep more when they were sick, not less. Aparently my children didn't get that memo.
On a brighter note, Corbin is learning to sit up. He can go for whole minutes now without falling over. And he has started getting into a crawling position. Here is a picture of him sitting up.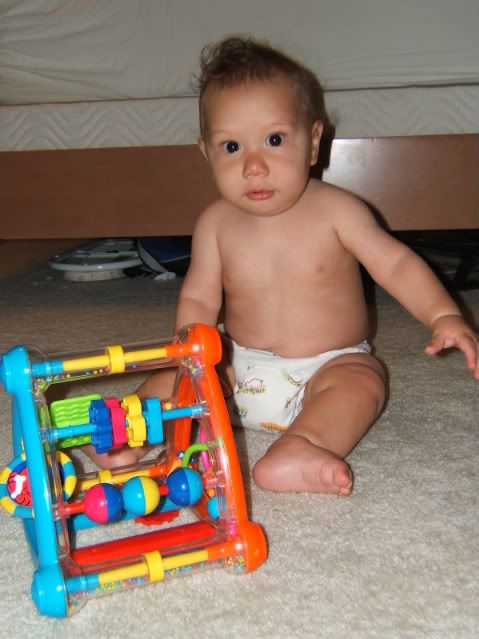 Jovi has learned how to open the refridgerator door. She loves going to look for "something to eat" and handing us whatever drink she has asked for out of the refridgerator. On Friday, I was nursing Corbin in the other room when she came in with hot dog buns. She told me, "Come mommy, hot dogs!". I followed her into the kitchen where I saw two cold hotdogs sitting on the counter. "One for me, one for you mommy!", she proudly showed me. How could I say no to that? It was hot dogs for snack, at least for her.
I had plans to sew a bunch this week, but with sick kids a lot of the stuff I planned didn't happen. Some sewing did occure though. Some I can't show till I give it as a birthday present to my sister, Laura, but I made these bibs. The bottom two are for a friend's babyshower that I wasn't able to attend, but I'll give them to her this week. The top four though are for Corbin. It is so fun having an embroidery machine!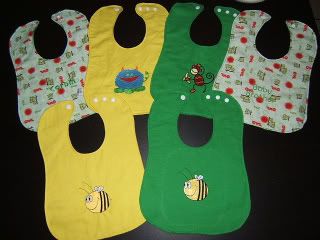 Here's hoping for a week of wellness next week!