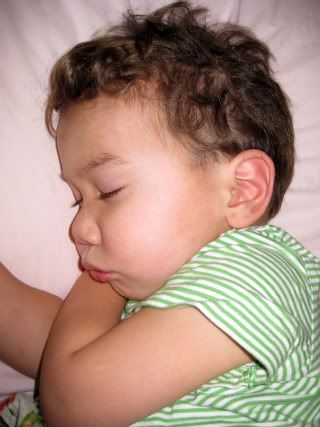 A week ago today, on January 13th, my baby turned two. It's hard to believe it's been two years. We started the day out with his mom and dad presents. I made him a 2 year old shirt and crown the night before while Juan put together his workbench.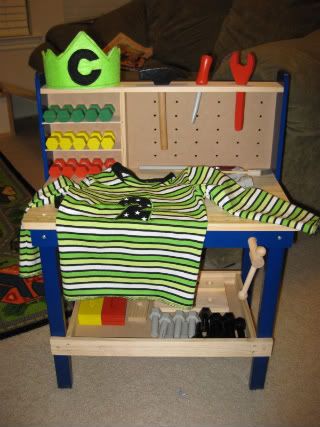 Corbin and Jovi both enjoyed it when they woke up in the morning.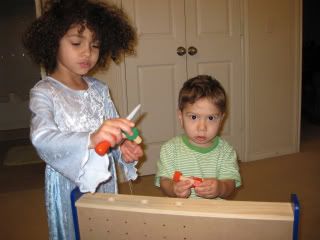 That evening we went to Chuck E. Cheese to celebrate. We were Joined by my mom, dad and sister, Laura. Everyone had a lot of fun, but the kids are both afraid of the guy in the Chuck E Cheese suit. They hid out at our table till he left.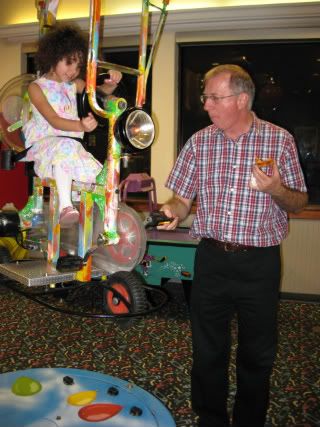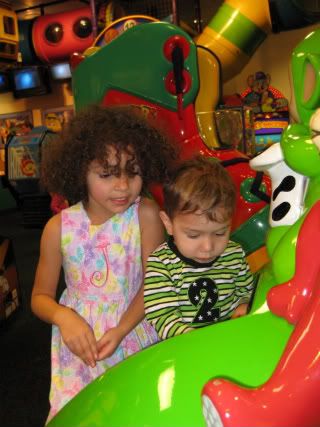 Corbin is SO two. He must have read a book on two year olds and decided to be a text book case. He gets into everything, EVERYTHING. Last Sunday got to call poison control for the first time ever. Corbin found some cleaner at the back of our bathroom cabinet that Juan and I didn't even remember was there, sat down with it and started trying to spray it in his mouth. I caught him before he sprayed it more than three times. He got very upset when I washed his mouth out. He seemed fine, but I called poison control just in case, they assured me he would be fine. Corbin also likes to talk, a lot. He loves his sister Jovi and wants to do everything she does. They play very well together most of the time. Corbin loves robots, dinosaurs, chap stick, bugs, trains, cars and dolls. He has started throwing tantrums which are usually pretty funny and he doesn't follow the "draw only on paper" rule like Jovi always did so I have to sit right with him when he draws. Corbin is very loving and cuddly, but doesn't like to give kisses. He likes reading books and some of his current favorites are Guess How Much I Love You (bunny book), Good Night Moon (night, night moon) and a Wall-e book we picked up at Half Price Books. He loves to get tickled (kickled) and is lots of fun to play with if you have time after cleaning up all the messes he makes. Corbin is a wonderful little boy and we are so happy he is part of our family.