We have had a busy winter break. We got to see lots of family and friends and had a busy fun time. On Christmas eve we went over to my parents' house in the snow, real snow. For me, a native Texan the snow was the most exciting part of Christmas eve. Before we finished making Christmas dinner, this is what it looked like outside.
After dinner my dad told the Christmas story while Jovi and Corbin acted out Mary and Joseph. Corbin stayed Joseph for about 2 minutes, long enough to take a picture. Jovi, on the other hand, got really into it. She was a great Mary and very serious about her part. It was so sweet.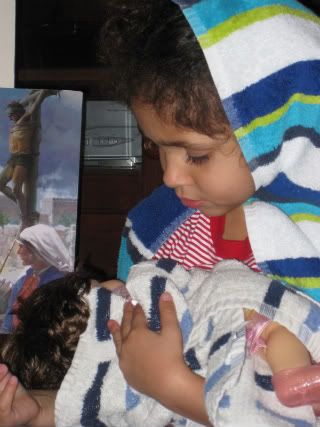 I made a lot of pajama pants this year. I was able to get a really great deal on on a king sized flannel sheet set and there is a lot of fabric in a king sized sheet set. I used my normal kid pattern, one of my favorites you can find
here
. I bought the adult version, found
here
, to make the adult pants. It, unfortunately, will not be one of my favorites. The pattern works well for anyone who is skinny with very little butt, but is not a pattern for people with curves. It also runs a bit small. The first pair I made Juan didn't fit him well and the pair I made myself were a little tight, I made some for Laura and at least they fit well. I made a new pair for Juan on Christmas eve morning, I wore his and I gave mine to Laura who then lent them to Emma.
Even though I made Jovi a pair of pants I also made her a skirt out of one of the pillowcases. It was the easiest skirt ever. I cut the length I wanted, added elastic to the cut edge and used the pillowcase edge as the hem. I foresee a new skirt for her every Christmas. I showed her both in the morning and, of course, she wanted to wear the skirt over the pants. Here is our matching Christmas pants picture.
We had lots of fun opening presents. I made Juan, Jovi and Corbin super capes. It's something they've been wanting for a while now. I didn't use a pattern, I just cut a half circle and serged it . I did learn that I don't like sewing cheap satin, it stretches in weird ways, but I was happy with how the capes turned out, and, more importantly, so were they.
I also made Corbin a little boy doll with matching pajama pants for Corbin in a robot print using this
pattern
. Overall, I liked the pattern. It is the perfect size for toddlers, but the arms and legs are so skinny that they take forever to stuff. I love how the embroidered face looks. He was named Barney by Jovi and Corbin loves him. He has joined one of the three lovies Corbin sleeps with every night (bottom picture). It is so cute to see him fall asleep hugging all his lovies at the same time.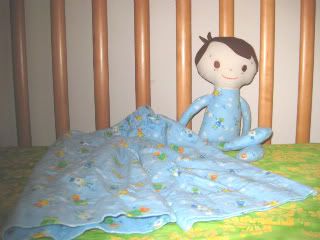 The kids also got several other presents including a soccer goal and soccer balls, a mister potato head for Corbin, a doll formerly known as baby Jesus in our nativity reenactment and now known as Ariel and some books along with some other stuff. Everyone likes buying stuff for our kids. It was a very fun evening and then we had an exciting drive back home in the SNOW.