Jovi has her own sense of style. This is an outfit entirely put together by her from her brother's tie to her brown leather church shoes (with mismatched socks that you can't see in the picture). It made me laugh so hard when I saw it, she would have done great in the '80s.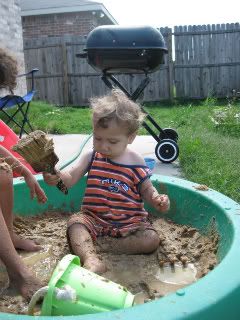 I left the top off our sandbox the day before it rained. The next day we went out and found a wet, sandy mess. Of course, Corbin jumped right in. It was a fun afternoon, the kids played in the sandbox then I turned on the sprinkler which got most of the sand off them. Then they got a final hosing off right before going in the house.
Corbin is such a little boy. Dirt attracts him like a magnet to metal. Jovi's first instinct when confronted with any bug is to tell us to kill it as she runs away. Corbin wants to touch and probably eat every bug he comes across. A few days ago we were waiting in a gravel parking lot and he started playing with the rocks, then started digging in the dirt below and then he decided to pop some of those dirty rocks in his mouth, yuck!
Corbin has started saying lots of words and even strings a couple together occasionally. It's so fun. One of his cutest words is please which he says and signs at the same time. It's so cute I just can't say no, but he has good manners and always says thank you after he gets what he asked for. He also shakes his little finger and says no, no, no when he does something he knows he isn't supposed to do. It's hard to be firm and not laugh when he does that.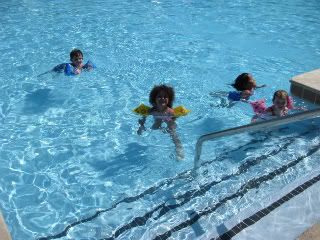 Jovi requested this photo. She wanted to show what a big girl she is swimming in the big pool by herself (with lots of friends around and mom nearby).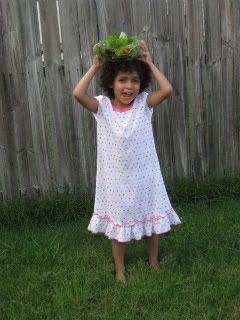 Yes, Jovi does have a bowl full of vegetables on her head, but that is not why I'm showing this picture. Jovi, since she was a baby, has hated wearing clothing to bed. She might start out with pjs on, but by morning they always ended up on the floor. Lately I've been feeling that she is getting too old and needs to be wearing something to bed, but Jovi just didn't seem to agree. Then she found a cupcake nightgown at the store that she just had to have. An expensive nightgown, but she promised she would wear it to bed and keep it on all night long. I was sceptical, but I thought it was worth a try. She kept the night gown on all night for two nights in a row. I asked if she would wear other ones and she said yes so we bought two more and I plan on making a couple more once we have moved and are unpacked. So this is a picture of Jovi in one of her new nightgowns.