We had a great Easter this year. The Saturday before Easter we went to a neighborhood Easter egg hunt. It was the best Easter egg hunt I've ever been to. There were literally thousands of eggs, the Easter bunny was there, they had bounce houses and face painting and snacks and the best part was that it was all FREE! Here are some pictures from that morning.
Jovi actually gave the Easter bunny a hug. Usually she talks a big game when it comes to costumed characters (I love Chuck E Cheese mommy! I'm going to give him a big hug.), but doesn't actually want to get near them when she sees them. I was pleasantly surprised and she still talks about giving him a hug almost a month later.
This was Corbin's first hunt and he really seemed to enjoy it.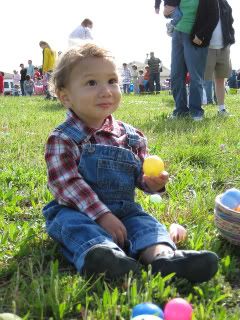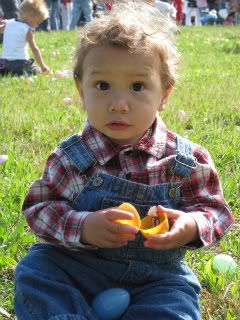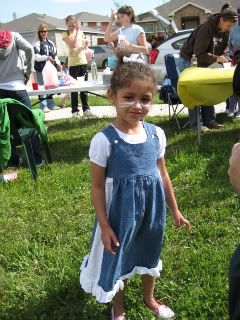 I couldn't actually get any good pictures of Jovi during the hunt. She was moving so fast it was like trying to catch lightning. The first picture is of her lined up before the race with some neighborhood friends and the second is after the hunt when she had her face painted.
On Sunday the kids got small Easter baskets and we went to my family's house after church for a wonderful Easter dinner. It was a good Easter.