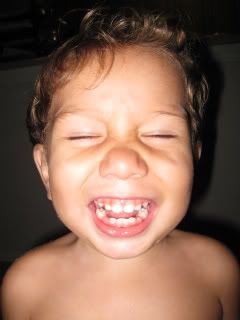 My baby is getting so old. He'll be 19 months old on Thursday and is SUCH a toddler. He gets into EVERYTHING and anything on the edge of a counter will get grabbed. Even if it is not on an edge it may get grabbed. I heard a scraping sound coming from the kitchen the other day and this is what I found.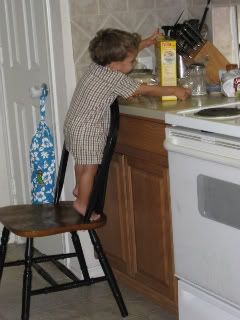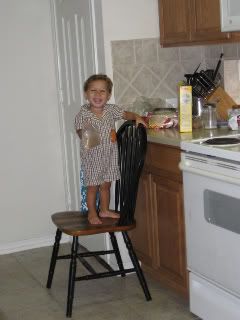 The second picture was after he saw me with the camera out. As soon as he sees a camera now he runs in front of it smiling his biggest smile and yelling cheese (as seen in the first photo). For breakfast we often share a bagel with cream cheese. The cream cheese is Corbin's favorite part and he usually licks it off before eating the bagel. A couple of morning's ago I left the kitchen for a few moments and this is what I found when I came back...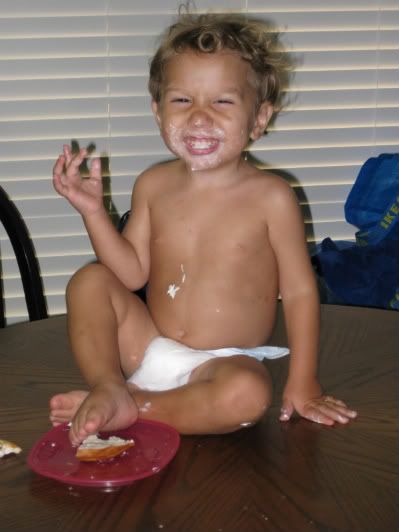 He isn't allowed to sit on the table and usually gets a time out, but I decided to forgo constancy and get the camera instead. He was just too cute up there. As you can see, he is insanely messy, I've never met a messier child. He loves to spill his drinks and splash in them and tear paper into little tiny pieces. He puts EVERYTHING in his mouth. He pours out any bags/baggies of food he gets his hands on. But he is so much fun to play with.
Corbin loves anything that growls. According to him, dinosaurs, dragons, lions and sharks growl. He loves to play chase and hide and seek, but the giggling usually gives away his hiding place. He is obsessed with bugs. He watches them and tries to catch them and brings me dead ones when he finds them. We found a cricket in my bathtub the other day and Corbin thought it was the coolest thing ever. He kept putting toys in there for the bug. He is talking in two and three word sentences now, his favorite being I want... He knows lots of food and food related words along with his favorites, mine, bug, outside and everybody's name. Sometimes during the day he will ask "Daddy?" and I'll tell him "Daddy's at work." to which he will respond with a very knowing "Ohhhh". Corbin just adores Jovi and wants to do and have everything that she does and has. It is so cute to see them play together. He still doesn't sleep through the night which sometimes drives me crazy, but I love him so much and am so glad he is part of our family!