I can't believe that it has been so long since I posted. Things have been pretty crazy the last two weeks, but I think they are slowing down. So... to catch you up.
Corbin milestones...about three weeks ago (has it really been that long?) he started saying his first two words consistantly momma and babyfood (nursing). He actually uses them interchangably, essentially they both mean me. I have heard him occasionally say a few other words where I think he knows what they mean, but he says those two daily. It's fun. Last week he found out he could pull up on our entertainment center and twist the knobs on the sound system so we now have to block that area. He also likes to pull up on walls and bookshelves and pull anything and everything off that he can. I'm constantly picking up piles of books. Two weeks ago Corbin got a cold which flaired his reactive airway disease. It was NOT fun for anyone, but it looks like he is finally over it now.
Jovi turned three last Thursday, in some ways it's hard to believe she is really that old and in other ways it feels like she has been a part of our family for much, much longer. On Thursday morning she got her first two presents; a bunch of hairbows (something she has been wanting for a while and was very excited about) and a shirt I embroidered with the number three. Here she is with morning hair and wearing her new presents.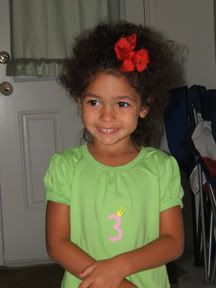 That night we went to Chuck E Cheese to celebrate as a family, my family came too. We had a lot of fun. Jovi's favorite presents were supergirl panties from me and Juan and a Dr. dress up set from my parents which she tried out right away. She also got a jewlery box with some very pretty jewlery from my grandma that she is really enjoying and some books from her aunts that se likes a lot.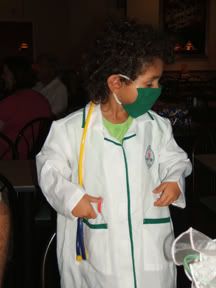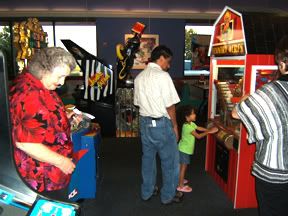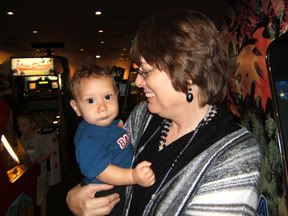 We had Jovi's first friend birthday party on Saturday, but it deserves a post of its own.